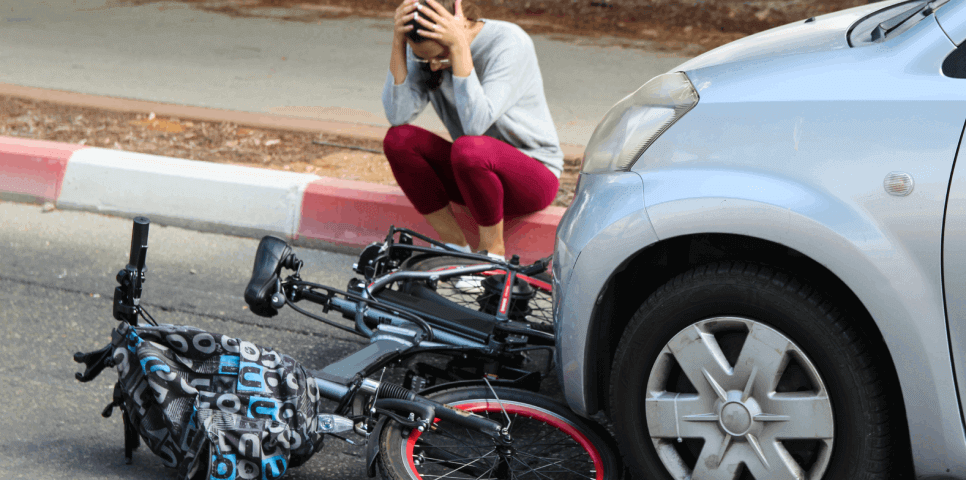 Commuters in Southern California frequently rely on a bicycle as an economical and healthy form of transportation. Children riding a bicycle in the neighborhood are at risk when a distracted driver motors down the street. Avid cyclists often enjoy a ride to remain physically fit. However, bicyclists are highly vulnerable to any kind of accident. Even with a bicycle helmet, a rider can suffer head injuries. Broken bones, internal injuries, and catastrophic, spinal cord injuries are common.
The effects of a bicycle accident can have a physical and emotional impact. No matter how diligent a bicyclist is about their safety, they can still become the victim of an accident caused by somebody else. The Los Angeles bicycle accident lawyers at the Law Offices of Howard Craig Kornberg have a strong commitment to protecting the rights of bicyclists.
Bicycle Accident Causations and Statistics
Most bicycle accidents are typically preventable. The main cause of an accident is when one or more parties fail to adhere to traffic signals or laws, or they act in a negligent or reckless manner. According to the U.S. News reports, in the latest two reporting years, 2,516 cyclists died in traffic accidents across the nation and 455 of those deaths occurred in California. 
The University of California Berkeley conducted research and produced data on bicycle collisions across California during a 5-year span. The UC Berkeley study found that Los Angeles had the most accidents by nearly 5x greater than the nearest county, by reporting 18,656 bicyclists accidents. 
Every road user has the responsibility to try to prevent accidents, especially bicycle collisions. Drivers owe due care and attention to all bicyclists on the road because they have the same rights as motorists. Bicyclists also owe a duty to follow all traffic signals and laws—they are required to obey the rules of the road, just as a motorist must.
What to do after a bicycle accident
Accountability is key to any bicycle accident lawsuit. If your accident and injuries were caused by another's negligence or inactions, they are financially responsible for your losses. It is important to hold the proper party accountable for the injuries sustained. A bicycle accident can be a catastrophic event, but it is important to collect as much information as possible. After an accident you should:
Call the police and wait for them to arrive:

all motorists are legally obligated to remain at the scene if there have been any injuries or property damage. It is always important to wait for officials to get there, even if you have not been injured. 

Never begin negotiations at the scene:

you may not realize the extent of your injuries and damages. You never want to agree to anything because the motorist could change their mind later or deny the entire accident. 

Obtain the driver's information:

exchange all information, including driver's license number and insurance policy number. 

Document what happened:

take pictures at the scene and write down all information including where it happened, the weather, the road conditions, and all parties involved. Get the information of any witnesses at the scene. 

Obtain the police report:

get a copy of the police report and make sure the police have recorded your and the motorists' versions of the accident. 

Seek medical attention:

always seek medical attention, even if you do not believe you are badly injured. Injuries can take hours to days to appear. It is important to get a medical exam. Keep all medical records and bills. 

Preserve all evidence:

keep any damaged clothing in the same condition as that day. Keep the damaged bike and all parts (do not get it repaired). Take photos of clothes and the bike in case they do need to be washed or repaired. 
A bicyclist always has the same rights and responsibilities as the driver of a motor vehicle. Drivers need to be respectful of all bicyclists, be mindful of sharing the road, and avoid accidents. A driver can avoid negligent behavior by always being aware of their surroundings and following all laws and rules of the road. 
It is always in a bicyclist's best interest to take the proper steps after an accident and to make sure your rights are protected.
Unraveling The Details To Build A Solid Case
A bicycle accident can result for a variety of reasons. Drivers may not see a bike approaching and fail to yield the right of way, especially when impatiently making a left-hand turn. Riders passing parked cars are often surprised when a motorist abruptly steps out, leading to an open-door collision. Some drivers have personal animosity toward cyclists and refuse to share the road. When substantial injury results from a bike crash, disputes over fault, liability, and insurance coverage can be hotly contested. If you or a family member has been injured, you deserve to have a highly skilled personal injury attorney in your corner who knows how to win.
Our Los Angeles bicycle accident lawyer is committed to achieving successful results to help accident victims get the compensation they deserve. The firm is well-respected for our drive to obtain results. If you or a loved one has been injured in an accident in the Los Angeles area or anywhere in Southern California, you deserve to have a bicycle accident lawyer in Los Angeles who truly cares about the outcome of your case. Your recovery process and well-being are paramount. Backed by more than 35 years of experience obtaining positive results, we will take the burden of fighting the insurance companies and negligent drivers off your shoulders.
We Do The Hard Work To Achieve Results
Preparing your case for success takes hard work. Our Los Angeles bicycle accident attorney diligently investigates to find the evidence needed to build a strong case. Attorney Kornberg is relentless in championing the rights of clients. While every case is different, our goals remain the same: obtaining justice and maximizing compensation for our clients.
Located in Los Angeles and serving clients throughout California, we know how to anticipate what the other side will do. We are devoted to countering their tactics with solid evidence and vigorous advocacy. To arrange a consultation with a Los Angeles bicycle accident attorney with a highly successful track record, call 310-997-0904 or send us an email.